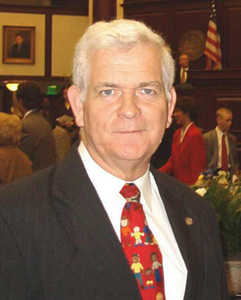 Don Brown is an insurance agent from DeFuniak Springs, Florida. He has served on the Walton County Commission, as Republican State Committeeman, Chairman of the Walton County Republican Executive Committee and as a State Representative in the Florida House of Representatives.
Don is a veteran of numerous campaigns and served as a County Chairman for Governor Jeb Bush and President George Bush.
Don Brown is best known for his work on insurance issues.  In the back-to-back years of 2002 and 2003 he was recognized by both the Florida Association of Insurance Agents and the Florida Association of Insurance and Financial Advisors for his significant contribution to insurance reform.  Most notably, in 2007 Don was one of only two legislators to vote "No" on HB1A which significantly expanded the role of government into private markets.  Since 2007, many of his objections to HB1A have proven to be correct.
Don Brown was known for being well prepared and for standing his ground during his tenure in the Florida House of Representatives.  He was most vocal when advocating for smaller government, less taxes, the Free Enterprise System and Market Based Solutions.  He was widely regarded as one of the top orators in the House.
While serving in the Florida House of Representatives Don was also known for his tireless work on such important issues as Medical Malpractice Reform, Elections Reform, Workers' Compensation Reform and Tort Reform.  In 2004 he was recognized by the Emerald Coast Association of Realtors for his work on real estate issues. He was also recognized in 2004 by the Florida Pharmacy Association as their Most Outstanding Legislator.  In 2005 the Florida Retail Federation named him the "House Legislator of the Year" and in 2006 the Florida Chamber of Commerce named him "Most Valuable Legislator" after the passage of his HB73 which repealed the doctrine of Joint and Several Liability.